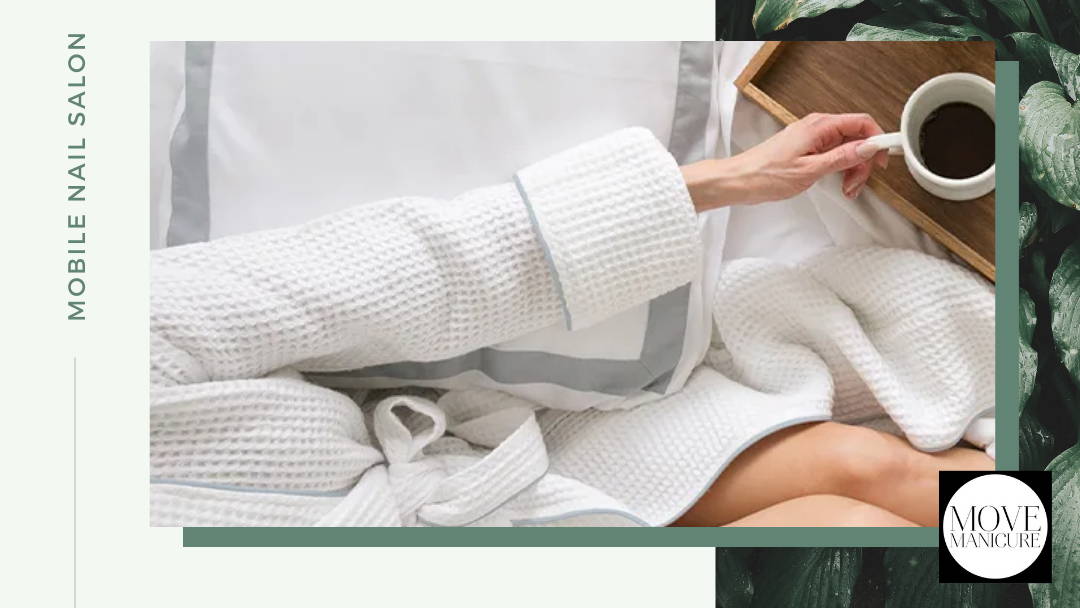 Manicure
Our manicure services collection provides a customised home manicure nail care session to pamper your hands wherever you are.
Frequently Asked Questions
Can I arrange for more than 1 in home manicure services at the same time?
Yes, you can. All our services have a drop down add on list so you can choose the quantity you need. Choose your desired date and time, add to cart and you are ready to checkout. If the booking process is too complicated, simply reach us at +(65) 90300090 and we will assist to book the appointment for you.
Is there any transport fees for home nail service?
The transport fee of $10 for home nail service is waived off for all orders above $50.
You may cancel your appointment no less than 12 hours prior. There will be no cancellation fee. However, if you cancel your appointment in less than 12 hours, a cancellation fee based on 50% of the treatment will be charged as we have scheduled the manicurist for your home nail service. We recommend to reschedule your appointment by contacting us at hello@movemanicure.com.sg
As we are a mobile nail salon, our manicurists have been assigned to their appointments and therefore costs has been incurred. Hence for all last minute cancellations, we will have to collect a cancellation fee.
How long does normal polish takes to dry for in home manicure service?
When you book a classic in home manicure service. your manicurist will let your normal polish dry for about 5 minutes before applying a layer of top coat to protect the nail polish, keeping the nail polish color fresh and vibrant longer. They will then check to see if the top layer of the nail polish is dry. If the nail polish is still wet, all you need to do is sit back and relax for a couple more minutes to avoid any creases and smudges on the nail polish surface.
Be ready to give a 10 to 15 minutes drying time after the topcoat is applied. Your manicurist will do a final touch dry test to ensure that you are good to go. You would want to avoid rummaging through your bag for the next hour to let the normal nail polish be 100% air dry.
How long does gel polish takes to dry?
Our organic gel polish is specially formulated to be organic, vegan and cruelty-free. Our gel polish needs to be cured under the UV lamp for 1 minute after each application and 2 minutes for the last application after the top coat.
Will gel polish damage my nails
Move Manicure uses our specially formulated gel polish that is organic, vegan and cruelty-free. This means our nail polish is 10 free, free from 10 major toxins found in commercial gel polish. Our gel polish is breathable and safe for application and will not damage your nails with proper application and removal process.
How do you remove gel polish
Gel polish needs to be removed with professional acetone solution. Peeling it yourself will cause damage to your nails, making it soft and brittle. The soak off process starts with a gentle nail file, soaked with acetone for a few minutes and our Move Manicure manicurist will use their professional tools to remove any last bites of nail polish.
Will gel extensions damage my nails?
Nail extensions are applied by our certified manicurists and only minimal damage is done to your nail plate if removed by our professionals. Of course, you are advised not to pick your nails or try to remove the gel polish yourself as this will cause damages to your natural nail plate, leaving it brittle and weak.
Here in Move Manicure, we use professional salon grade nail extensions and high quality products to remove your nail extensions.
What does express gel manicure do?
Our express nails treatment at Move Manicure is the perfect treatment on the go. It includes cutting and shaping your natural nails, buffing the nail bed and applying a colour of your choice. It's perfect for someone who has an extremely busy schedule on the day with no time for a full manicure which includes a soak and removal of the cuticle or full pedicure which includes a foot wash, exfoliation, dead skin removal and a massage!
Why is Move Manicure priced at a premium compared to other nail salons?
Move Manicure differentiates our services on a number of qualities and our prices are reasonable based on the values we add from booking availablity, in home manicures and pedicures, and the after-service care. Also we provide home manicure in Singapore, which is a slightly different model from the usual nail salons.
Our online booking platform shows our nail treatment photos, description, price and service duration. Our online store is SSL secured to offer a secured online checkout. We do have live chat to assist you with booking to. This platform is open 24 hours, 365 days, so you can make a booking with us online anytime.
We offer a wide range to bespoke nails services and have a selection of non toxic gel polish for you to choose. Support home manicure Singapore and book a house call manicure today.
Do you have a loyalty card programme?
Subscribe to our newsletters to receive the latest deals and promotions.